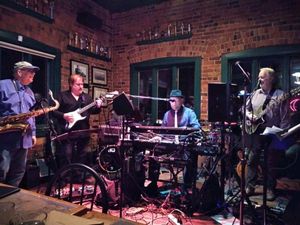 Band Bio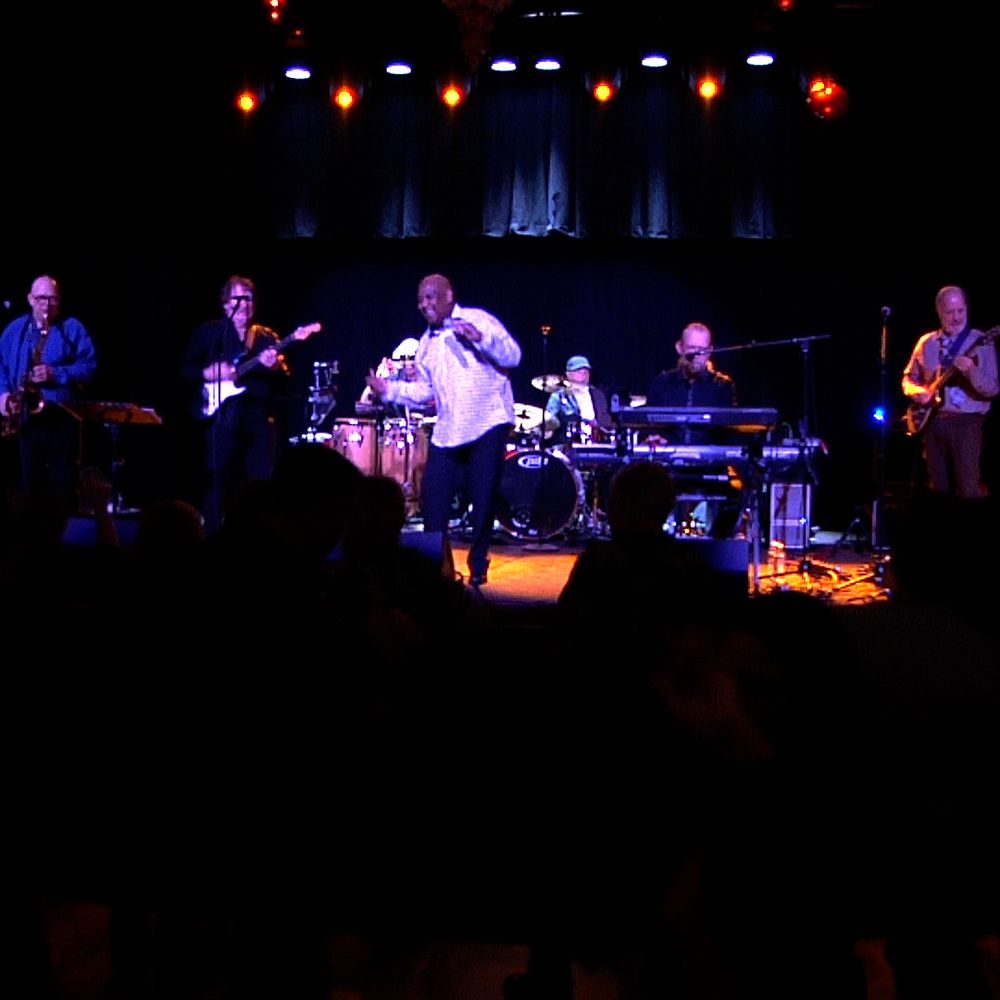 THE BAND
ABOUT DR JOP FUNK SHOP BAND
This is one of the Seattle area's, PREMIER PROFESSIONAL BANDS featuring top-internationally-acclaimed musicians, now residing around the Northwest. When NOT on the road or in the studio, they are performing for standing room audiences at Corporate Parties, Festivals and "A Room" venues around the Puget sound region. With MANY years of PROFESSIONAL experience, together they strive to create the perfect atmosphere for all shows/events. They take pride in their craft. From rock, to funk, to blues, to jazz, to R&B, and a little country, these musicians love doing it all.
Funk Shop's foundation is a four-piece band that CAN expand to the INDIVIDUAL client needs. They can accommodate any venue's needs TOO.  Funk Shop's PREMIER musicians utilize TODAYS STATE OF THE ART equipment, execution, precision, passion, and emotion! STANDING ROOM ONLY SHOWS are common for this band. Each member bring their own unique influences that culminates to create this incredibly tight, HIGH ENERGY and AMAZINGLY UNIQUE SOUND. From rock, to funk, to blues, to jazz, to R&B, and a little country, these musicians love doing it all. You will be begging for more at the end of any evenings show.
THE MEMBERS OF DR JOP FUNK SHOP INCLUDE:
W MICHAEL "Dr Jop" JAAP – keyboard, vocals, bass, comedy, & leader   Michael is an American Career Musician/Entertainer known by his peers as a "Musician's Musician!" He is also the leader of Funk Shop. Mike has performed for standing ovation/room audiences since the beginning of his career. Being a 1st call studio musician, he has been requested by jazz greats Eddie Harris, Stanley Turrentine, Ernie Watts, Larry Coryell, Chuck Bergeron, etc.
            Mike has performed and recorded with such blues and R&B legends as Jonell Moser, Elvin Bishop, Lee Oscar, B.B. King, Robert Cray, The Temptations, The Neville Brothers, the "Godfather of Soul" James Brown and more. He has remained at the forefront of the Seattle music scene performing/recording with such great bands as Danny Ward and Reality, Alive and Well, Dr. Funk, Darren Motamedy AND Motoready, Michael Powers, Korla Wygal, The Reputations, which featured the legendary performances at The Scarlet Tree of Kurt Kolstad, Tim Scott, Rich Dangel and Denny Goodhew, and many-many more.
            Mr. Jaap owns Jopier Music Publishing ASCAP, and Jopier Studios which he has produced several albums and soundtracks for video including the PBS award winning Over Washington & Over New England. He has also logged thousands of hours in other studios while recording/engineering/producing and composing for film, commercial jingles, and published works for artists including Jack Rice, Michael Tomlin, Bob Krinsky, Korla Wygal, Michael Powers, Darren Motamedy, Jade Williams, Lightrider, Michael E Williams, Dani Gendreau, and etc. etc.
PETE KIRKLAND – vocalist  Pete is a sensational vocalist/entertainer, being one of the few in the Pacific Northwest of this caliber. He has captivated audiences from around the world by his powerful dynamic personality, performance and God Given Talent.
            Pete's career began at age 13 playing drums for bands in Germany.  By age 16, he evolved as lead vocalist in a soul band revue that traveled the Florida and East coast. With professional experience of over 30 years, Pete's passion to entertain has been felt by audiences the world over. Crowds young and old are dancing to his emotional performances generating standing ovations everywhere he appears.
            Pete is a WORLD CLASS musician that has shared the stage with Millie Jackson, Al Hudson, Slave, Chuck Jackson, Sky, Norman Conners, and many more.
            Mr. Kirkland's influences are Luther Vandross, Peobo Bryson, Marvin Gaye, Stevie Wonder and Donny Hathaway.
EMILY MCINTOSH – vocalist   Performing & Recording Vocalist, Pro Session/Jingle Singer, Voice Over Artist, & Vocal Coach, is an indisputably gifted Vocalist whose voice is ... listened to and celebrated worldwide. From wailing Soul and Dance to timeless Adult Contemporary, Edgy Pop, Hip/Hop, Smooth Jazz and Sultry R&B, Emily is a unique, true and diverse Vocal Talent.
            Being a successful, world class, Performing/Recording Artist she has many accolades to her credit. She has opened for Soul Legend Al Green and she has even performed "Cruisin Together" with Huey Lewis. (see it on Youtube). You may also find on her on stage singing with The Tropics band or her own solo shows.
            This Cornish College of the Arts Cum Laude Grad has performed as a Soloist and Group Member at Festivals, Casinos, & Clubs for over 20 years. In addition to Vocal Coaching from her Woodinville Studio, she is busy making a living as a Session Singer, singing hundreds of Radio ID Jingles that air world-wide. Perhaps you've heard her singing the Love Song Show Jingle for "Delilah" or The WOLF (in Seattle & Portland). Emily also contributed her talents to "Super Smash Bros. Brawl" singing "Ashley's Theme" for Nintendo Wii. More info at her jingle site: jinglequeen.com.
NIKI COLEMAN – vocalist  Niki's professional career started at age 16 via acquiring a driver's license. She has developed a VERY soulful vocal approach along with her own AMAZING style. She can also emulate her influences like Chaka Khan, Natalie Cole, Bonnie Raitt, Aretha Franklin, etc. She sings with heart and you will feel her soul.
            She has performed and toured with several Northwest groups including but not limited to, Groove Nation, Wally and the Beeves, etc.  She continues to amaze standing room audiences and is one of the "GREAT" Premier Vocalist in the NW.
FRANK HEYE – drums Frank Heye is a graduate of North Texas State, where he performed on set with the One O'Clock band. He is also an accomplished vibraphonist. He started playing live vibes in Texas as a young teen. This grew rapidly into touring on drumset in bands which Frank has performed with Infamous, famous and numerous killer bands from around the country. He settled in the Seattle area in the 1990's and has been the drummer for noted bands as Rockfish, Emerald City Throwdown, Big Dogs Review, to name a few well known Seattle Area groups.
BEN SMITH – drums   Ben Smith is a Seattle based drummer for the legendary rock band Heart from 1995-2017. Ben Smith brings over thirty years of music industry experience performing recording, and producing.
Mr. Smith is a prolific and accomplished drummer who played live and in studios with Ann and Nancy Wilson in the legendary band Heart from 1995-2017. In 2016 Ben formed a new band called ROADCASE ROYALE with Nancy Wilson of HEART and former PRINCE Vocalist Liv Warfield.
            Ben has worked live, toured and recorded in the studio with countless other gifted artists including Taj Mahal, Cyndi Lauper, Lovemongers, Pete Droge, Don Gilmore, Tracy Nelson, BoyMeetsGirl, Deniece Williams, Peter Frampton, P.F. Sloan, Cornelius Bumpus, Danny O'Keefe, Sugar Pie de Santos, and with Jazz, Blues, and  Pop legends such as Nancy Wilson, Ernestine Anderson, Glenn Alexander, Phoebe Snow, The Songcatchers, Kenny G, and banjo prodigy Danny Barnes.
JOHN "Morty" MORTON – guitar, comedy   John is a life-long career guitarist and composer. Morty's experience ranges from world touring to recording and writing music. This includes decades of performing in the vast studio world as one of THE top-call session musicians.
            John has played with the likes of Abraham Laboriel, Carlos Vega, Jimmy Johnson and Don Grusin. Creatively mastering a wide variety of musical styles, John has recorded with artists including (but not limited to) Randy Meisner (Eagles), Boy Meets Girl, Sheena Easton, P.F. Sloane, Michael Tomlinson, Dan Dean, Tom Collier, Danny O'Keefe, The Brothers Four and more "Indy" albums than he can remember, ALONG WITH writing/recording literally thousands of commercials as well as movie scores and tv shows.
            Johns Guitar Performance has moved live audiences with such shows as Legends in Concert and Teatro ZinZanni Seattle and San Francisco, while also performing with artists such as Thelma Houston, Francine Reed, Sally Kellerman, Joan Baez, Darlene Love and Ann Wilson from the band Heart.
GARY CROOKS – guitar, vocals    Gary has been an active member of the Northwest music community for over 30 years performing locally and touring abroad.  As a performing musician Gary toured with The Shirrels and Jimmie Rogers. He has worked as a sideman with Bo-Diddley, The Diamonds, Johnny Ray, and Dorothy Lamour. He has toured for The Department of Defense performing in over 25 countries entertaining our troops abroad at UN bases, and has worked with numerous local artists including Little Bill and the Blue Notes, Apricot Brandy, Alive and Well, Wayne Simon, Red Kelly, and many local area jazz groups and "Big Bands." Currently Gary performs primarily with "Dr Jop Funk Shop", and a new local 17 piece jazz band out of Gig Harbor "The Night Gig" which features a number of amazing musicians that some are also music educators.
            As a studio engineer, Gary has been owner operator of Bell Street Records for 20 years. He has recorded CD's for many local artists including Mom's Rocket who was the designated KJR rock band and recorded several soundtracks for Seattle Seahawks. He has collaborated with studios in Los Angeles and New York on projects for local jazz artist Danny Ward, and Nathan Breedlove for the Skattl-lites project. In addition, Gary is currently working on a CD of HIS OWN original compositions.
JIMMY "Greasy" PRIBBENOW – saxes, vocals   Jim's career started in Tacoma as a session and club musician. He performed with many great local artist's including Little Bill and the Blue Notes, Alive and Well, The Reputations, Etc... While on the road, he fell in love with and decided to settle in Nashville Tennessee where he performed/recorded with all the Premier musicians and studio musicians including Raskall Flatts, Jonell Moser, Roy Clark, Victor Wooten, and The Smoking Section (which is comprised of Nashville's premier session players).
            In addition to performing, he appeared on countless recording sessions, albums, and published works, including his own jazz project under his own name entitled 'Low Flying Cattle, Live at The Swiss...' Jimmy is a Nashville refined, world class musician AND spirit that brings his voice CLEANLY to EVERY performance. You won't forget Jimmy "Greasy" PRIBBENOW.
IKE "The Painter" SUTTON, percussion, vocals   Born to music which included singing at a very young age, Ike discovered drums, especially percussion and congas, in 5th grade. This COMPLETELY changed his perspective on his musical goals. His professional career began by Junior High, as he and his buddies formed a band and performed for teen gigs around the Northwest.
            Since that time, Ike has played in, and recorded with DOZENS of the Northwest's finest bands. His passion and swagger have earned him the reputation of "The STANK Painter!" Ike's taste, chops, and musical sensibility makes any band's groove tighter. His precision percussion will, at the very least, make you wanna' get up and dance, and maybe even holler.
            AND, don't be surprised when you hear him belt out a smooth rendering of a Joe Cocker Tune. Close your eyes, and just let Ike's channeling of that soulful sound of Mr. Cocker wash over your ears. THEN, just wait for an AWB, Chicago, Tower of Power, or Santana tune where Ike can shine by being featured. His solo's will blow your mind.
SO with Ike "The Painter" Sutton in the band, he truly helps you feel the power of the groove of Dr Jop Funk Shop.
KAREEM KANDI Saxes, vocals
Mr. Kandi was born into music in 5th grade band. The clarinet transformed into alto sax. He finally found his true voice with the Tenor Sax, although he plays ALL the woodwinds well. Kareem is a GREAT all-around musician who plays all styles including Jazz, Pop, Funk, R&B, Rock, Fusion, etc. He studied with Wayne Shorter in college and has been gigging professionally since early High School.
            Being one of the 1st call tenor saxophonists, he has performed with the majority of the Premier famous N.W. Artist's. He also brings his unique style to the repertoire of Dr Jop Funk Shop. Kareem is an asset to ANY group and ALWAYS brings it to our band. Our following loves BOTH Jimmy and Kareem. On rare occasions we have the privilege of both of them on stage at the same time within a horn section.
Kareem headlines his own band, but loves devoting time to Dr Jop Funk Shop. He brings an energy that is unsurpassed by most saxophonists.Add text